Mecklenburg County Public Health (MCPH) has created this toolkit with materials about COVID-19 vaccination, safety, testing and treatment, assistance, and community engagement that you can download to print and post in your communities or share on your social media platforms.
School and Child Care Safety
If your child is exposed to COVID-19 at school or at home, follow the guidance on the CDC's What to Do If You Were Exposed to COVID-19 page. 
If your child tests postive for COVID-19 or shows any symptoms, follow the guidance on the CDC's Isolation and Precautions for People with COVID-19 page.
Read the CDC's Schools and Childcare Programs page for recommended strategies to reduce the spread of COVID-19 and maintain safe operations in schools, child care programs, and institutions of higher education. If you are unsure what steps your child's school is taking to respond to the COVID-19 pandemic, ask a teacher or administrator to explain the school's COVID-19 safety strategies.
Mecklenburg County Public Health follows  and NC Department of Health and Human Services (NC DHHS) guidance for child care, camps, and students, staff, and faculty in K-12 schools. Visit the links below to review this guidance:
COVID-SAFE Business Certification Program
Thank you to all the business owners and managers who took the online training course in 2022 to learn about workplace COVID-19 safety practices and get a COVID-SAFE Business certification. Your certification is valid through 2023. Check your email for the monthly newsletter and instructions for accessing your certificate, employee attestation, and other printable materials online.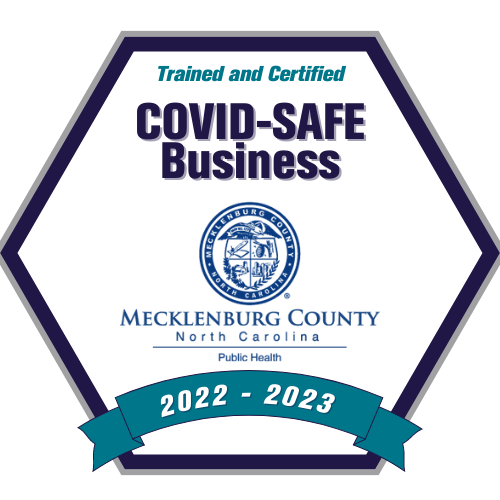 Community Engagement
Need someone to speak at an upcoming event? We would love to share our knowledge with the community! Please tell us about your organization and event by completing the Online Community Engagement Request Form and we will be in touch within 3 business days. Every attempt will be made to support your endeavors to promote a healthy community..
More Languages
NCDHHS
Centers for Disease Control and Prevention